A summon played by Nika Zeitlin at Graduation Day (Advanced Camp 2007).
Character Sheet
Edit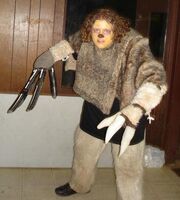 Big Bad Wolf
Age: Since Wolves Started Being Cool
You are the Big Bad Wolf. Ages ago, you roamed this world. Your adventures are too numerous to count. You've blown down houses, swallowed little girls, been outsmarted by rabbits, killed by woodsman, and hunted sheep to your heart's content. You are the Wolf of Fairy Tales. In your other incarnations, you have been Fenris, Brer Wolf and Magdur. In this day and age, you go by your full name… or B.B.W. for short.
You left this world as men left their superstitions for science and steel, retreating with your fellow myths to the realm of legend. Life was good there, but far less exciting. The old stories tended to repeat themselves over and over again, and very little changed, unless new stories were created in the world of men.
12 years ago, you were summoned from your home back to the world of men by a mortal called Carousel. You were in the center of a summoning circle, your massive wolf body squeezing against the circle, nearly pushing the mortal out. You attempted to swallow the boy, as he was about as big as your snout. But he pushed you back with his will, and bound you in silvery chains of moonlight. As he slammed you to the ground, you grew smaller, and more man-like, adapting to this strange new world. A group of high school students cheered, and Carousel bowed. You were embarrassed.
However, over time, you grew to like Carousel. Something about him fascinated you. Like a moth to a flame, or a cobra to a snake-charmer. You have become one of his chosen summons, a being he can call into existence at a moment's notice. You are a tricksy, powerful being, and you hunger always for stories and for humans. You are friendly and somewhat smarmy as long as you are bound. For now, you follow your summoner.
You are a beast. You are THE beast. You can blow down houses, look vaguely human, and strike fear into the hearts of mortals. You are the Big Bad Wolf, and hold the power that entails.